Much has been written lately on the Digital Economy Bill, rushed through in washup with little to no regard for democracy, most of it extremely negative or, in the case of it's supporters, what seem to be outright lies. Wayne Myers has an interesting collection of links in his response to Sarah Teather so I'll add some of my own opinion and research to his findings.
The idea that filesharing is causing huge problems and lost revenue for the music industry seems to be on rather shaky ground considering that sales of singles for 2009 were 152.7m, up 32.7% on 2008, in an economic climate where most other industries saw a loss. Admittedly album sales were down 3.5% to 128.9m but this I think reflects a change in the way fans want to consume music rather than any impact caused by illegal filesharing. These figures come from the BPI's own website.
For a little more impact on these figures let's look at a nice little graph.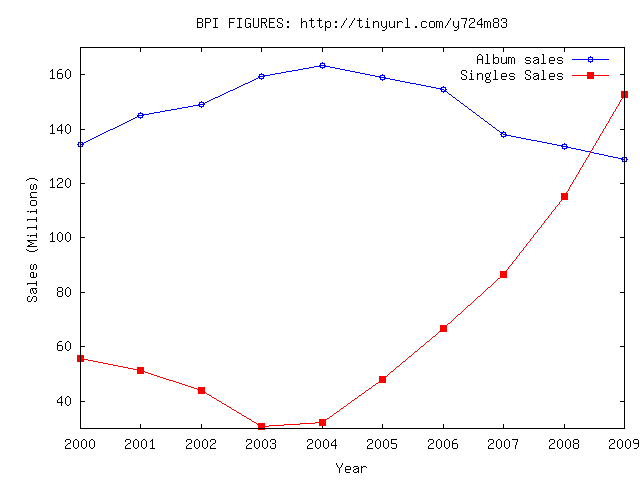 According to gamerinvestments.com, the UK games industry saw £1.621 billion in software sales during 2009 – it's second strongest year on record. Total revenue, including hardware sales, was £3.311 billion – 18% down on 2008 despite the country being in the grip of a serious recession. In an article on gamasutra ELSPA director Mike Rawlinson was quoted as saying "We cannot forget that 2009 saw the UK economy in the grip of one of the most severe recessions of recent times, which has naturally impacted on the entertainment industry. It is not surprising that the UK videogames industry has weathered the economic storm so well, as games represent great value for money.". Interestingly 2008 saw growth of 23% over 2007 to make it the strongest year on record so 2009's figures are still rather good when taking a long term view.
UK cinema had it's best year in nearly 3 decades with £1 billion taken at the box office and £200 million taken in DVD sales according to one article at industrygamers.com.
So much for unlawful filesharing causing huge damage to the creative industries. Apparently despite record sales the music industry has seen lower profits – perhaps they should spend a bit less on lobbying politicians and suing their customers.
Andrews & Arnold Internet service have some interesting things to say on the Digital Economy Act, including a list of possible loopholes.
Our elected representatives have shown a lack of technical awareness that would be quite laughable if it wasn't such a crying shame that they pushed through an act which will do little, if anything at all, to stem the filesharing "problem". What worries me most is the knock on effect it's likely to have on coffee shops, internet cafes, clubs and even members of the public who choose to share their wifi access. Companies like Fonera who allow consumers to connect for free to any FON access point simply by buying a Fonera router and sharing their own internet – with even the possibility to earn a little money to offset the cost of their internet connection. Most disturbing of all is the section of the Act that deals with blocking access to "locations" likely to lead to copyright infringment which has the possibility to drive one of my personal hobbies underground – that of reverse engineering game consoles and providing tools for consumers to write their own games and applications. This is something I feel has a big part to play in the future of our digital economy as consumers fight against the restrictions of corporations seeking an ever larger share of the money in our wallets. One of the things the internet has done since it's inception is blur the lines between producers and consumers, allowing hobbyists to reach an ever wider audience and potentially generate a living wage doing the things they enjoy most.
It is my personal opinion that the Digital Economy Act will repress the growth of digital economies and cost Britain dear in terms of investment – who would even consider starting a web business here now?